Wall Street Profit Climbs 36% in Best Year Since Crisis: Chart
By
Wall Street's recovery from the worst postwar financial crisis continues. The six largest U.S. banks earned $93 billion in profit last year, up 36 percent from a year earlier — the best since the 2008 credit meltdown and more than double the 2009 level.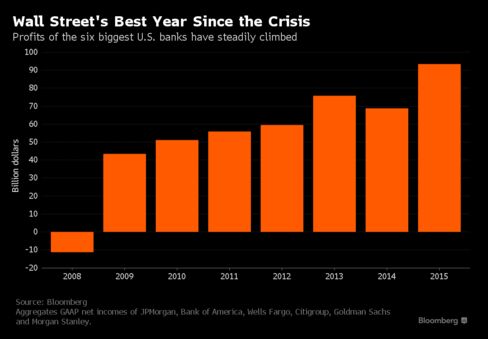 Wall Street's recovery was slow as the banks took several years to dispose of toxic assets left from the crisis while loan losses rose. The firms were then hit by a flurry of litigation costs as their way of doing business in many areas came under legal attack. Goldman Sachs Group Inc. was the most recent example, agreeing to a $5.1 billion settlement tied to its handling of mortgage-backed securities…
Wall Street Profit Climbs 36% in Best Year Since Crisis: Chart

Leave a Reply
You must be logged in to post a comment.