'Stealth Easing' Spreads in China Property as Debt Risks Mount
By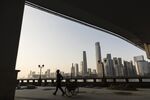 A worker pulls a cart under the Liede Bridge over the Pearl River in Guangzhou, China.
Photographer: Qilai Shen/Bloomberg
Cities tweak property rules as market continues to slow

 Nomura sees 'major' nationwide easing amid cooling economy
"Stealth easing" is Nomura Holdings Inc.'s description of measures rolled out in some Chinese cities in recent months to counter a faltering property market.
In one of the latest cases, Beijing's city government offered two residential land plots for sale without specifying maximum prices for the apartments to be built on them, the South China Morning Post reported on Wednesday…
'Stealth Easing' Spreads in China Property as Debt Risks Mount

Leave a Reply
You must be logged in to post a comment.