Once the World's Greatest Port, Hong Kong Sinks in Global Ranking
By
City was likely overtaken by Guangzhou and Busan last year

 Li Ka-shing's terminal operator freezes pay to cut costs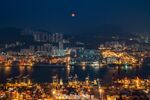 The Hong Kong container terminals under the super blood wolf moon on Jan. 22. Photographer: Anthony Kwan/Bloomberg
Hong Kong's continued slide down the rankings of the world's great ports has pushed billionaire Li Ka-shing's freight-terminal operator to take action.
HongKong International Terminals Ltd., the city's biggest container-terminal operator and part of Li's CK Hutchison Holdings Ltd., is freezing salaries for all its staff this year due to rising competition and the U.S.-China trade war. It has also formed an alliance with rival dock operators in Hong Kong in a bid to cut costs…
Once the World's Greatest Port, Hong Kong Sinks in Global Ranking

Leave a Reply
You must be logged in to post a comment.