Morgan Stanley Targets Singapore's Rich Chinese Entrepreneurs
By
Bank is expanding operations for family offices in the city

 Asia wealth management head Vincent Chui speaks in interview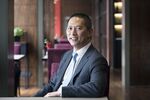 Vincent Chui Photographer: Ore Huiying/Bloomberg 
Morgan Stanley, the world's second-largest wealth manager, is beefing up its services for rich clients in Singapore with a focus on Chinese entrepreneurs looking to set up family offices in the city state.
"The city is a key business hub for China entrepreneurs, as well as a family office nexus," Vincent Chui, who heads the bank's Asia wealth operations, said in an interview. The U.S. bank hired Wee Yee Yeong to head its Singapore wealth business this year, and plans to add relationship managers there and in Hong Kong, he said…
Morgan Stanley Targets Singapore's Rich Chinese Entrepreneurs

Leave a Reply
You must be logged in to post a comment.