The Home Office Is Dying
By
Thanks to Wi-Fi and laptops, work is bleeding out across your entire home.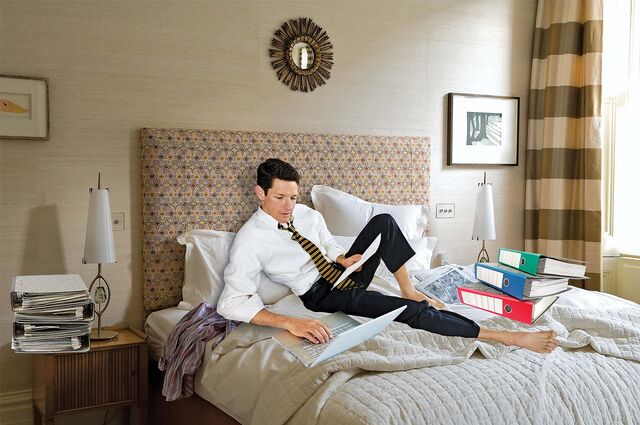 Photo illustration: 731; Photographs: Alamy (1), Getty Images (2)
Zac Atkinson keeps a desk in the corner of the living room of his one-bedroom apartment in Studio City, Calif. Not that he uses it much: The work-from-home television writer migrates from couch to kitchen table and back again as he churns out scenes for animated children's programs. "The folks from the generation before me tend to have more of an office," says Atkinson, 32. "Most people I know end up sitting on the sofa, and half the time the TV is on when they're working."
Not long ago, someone telecommuting might have needed a desktop computer, a printer, a landline, and a fax machine (plus filing cabinets to store pay stubs, bank statements, and bills). Today more people than ever work from home, but laptops and Wi-Fi function just as well couchside—or, hey, by the pool—as deskside, and chances are you're neither sending nor receiving a ton of faxes. This helps explain why "the bigger, more ornate home offices that we once did have kind of gone away," says Tim Shigley, a home remodeler in Wichita. "People started saying, 'Do I need a home office? I have other things I want to buy.'?"…

Leave a Reply
You must be logged in to post a comment.