Tesco Bank Pays $3.1 Million to Replace Cash Taken From Accounts
By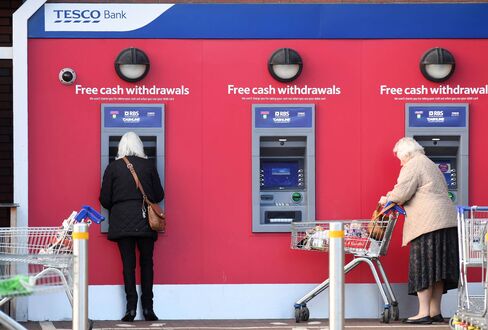 Photographer: PAUL ELLIS/AFP via Getty Images
About 9,000 clients fell victim to fraud on weekend, firm says

Lender resumes online transactions, says no personal data lost
Tesco Bank, the lending arm of the U.K.'s biggest grocer, said it's spending 2.5 million pounds ($3.1 million) to reimburse customers who lost money during a wave of fraudulent account transactions over the weekend.
About 9,000 of the firm's 136,000 checking-account clients fell victim and were fully reimbursed by Tuesday, the company said in a statement. The bank said it ended a temporary suspension of online transactions and that no personal data were compromised…
Tesco Bank Pays $3.1 Million to Replace Cash Taken From Accounts

Leave a Reply
You must be logged in to post a comment.