Singapore's Export Decline Adds to Signs of Economic Slowdown
By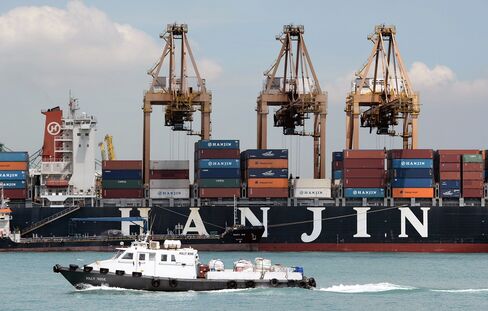 A container ship (background) sits docked at the Keppel terminal container port in Singapore on April 12, 2013. Singapore's trade-driven economy shrank in the first quarter as demand for exports remained weak, but a robust construction sector cushioned the decline, preliminary government estimates showed on April 12. AFP PHOTO / ROSLAN RAHMAN (Photo credit should read ROSLAN RAHMAN/AFP/Getty Images)
Singapore's overseas sales unexpectedly fell for the first time in three months, signaling a weakening growth outlook for the export-dependent nation.
Non-oil domestic exports fell 0.2 percent in May from a year earlier as shipments of petrochemicals and electronics declined, data on Wednesday showed. That compares with the median estimate for a 2.3 percent gain in a Bloomberg survey of 16 economists…
Singapore's Export Decline Adds to Signs of Economic Slowdown

Leave a Reply
You must be logged in to post a comment.