Shadow banking system a growing risk to financial stability – IMF
By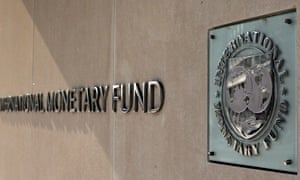 IMF offices in Washington DC. The fund said: 'The growth of shadow banking size and activities in China stands out and warrants particular monitoring.' Photograph: Tim Sloan/AFP/Getty Images
Fund report says tightening of bank regulations may be driving shift to lending by hedge funds and private equity
Growth in the world's $70tn (£43tn) shadow banking system is a risk to financial stability and monitoring of the sector is inadequate, the International Monetary Fund has warned.
The Washington-based fund said in its twice-yearly global financial stability report that lending outside the regulated banks was increasing in the post-crisis world, partly because of greater banking regulation.
"The global financial crisis revealed that, absent adequate regulation, shadow banking can put the stability of the financial system at risk in several ways…
Shadow banking system a growing risk to financial stability – IMF

Leave a Reply
You must be logged in to post a comment.