No Rain in Plains Turns Hedge Funds Bullish on Winter Wheat
By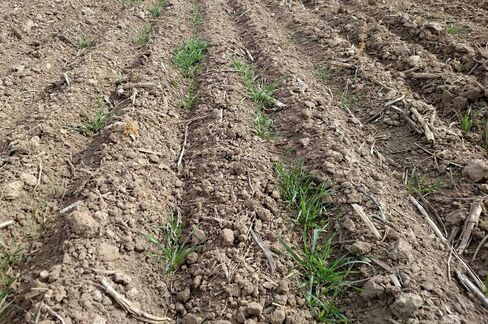 Source: Gary Millershaski
Crop conditions worsen as winds compound soil-moisture losses

Bullish fund holdings signal 'change in sentiment' for prices
It's been so hot and dry in parts of the U.S. Great Plains that young wheat plants are having a hard time staying green. In fact, the crops that Michael Peters farms on 3,100 acres in Oklahoma turned a bluish hue, a sign of stress that agronomists say can be a precursor to a sub-par harvest.
While the wheat won't be harvested until June or July, leaving time for a recovery, growers say they are increasingly concerned about the newly planted crop. Abnormally dry and moderate drought conditions have increased in Kansas, Colorado, Nebraska and Oklahoma over the past three months. Along with some unusually windy weather, it's getting difficult for plants to emerge and establish strong root systems before going dormant for the winter…
No Rain in Plains Turns Hedge Funds Bullish on Winter Wheat

Leave a Reply
You must be logged in to post a comment.