Mobster or Central Banker? Spanish Cops Allege This Russian Both
By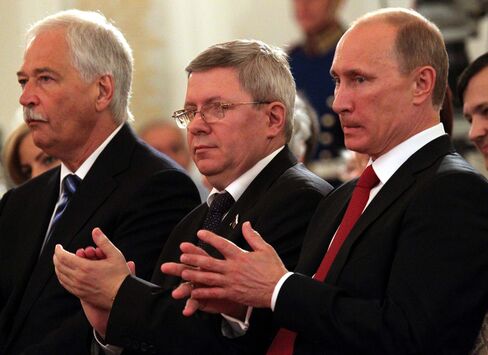 Photographer: Konstantin Zavrazhin/Getty Images
Torshin called 'boss' by alleged mafia members, police say

'I'm a public individual and I'm not hiding anywhere': Torshin
A former senator in Vladimir Putin's United Russia party directed dirty-money flows for mobsters in Moscow before he was named a deputy head of the central bank last year, according to investigators in Spain.
Alexander Torshin instructed members of the Moscow-based Taganskaya crime syndicate how to launder ill-gotten gains through banks and properties in Spain while he was a deputy speaker of the upper house of parliament, the Spanish Civil Guard said in a confidential report, seen by Bloomberg, on a three-year probe that ended in 2013. Torshin denies any wrongdoing and said his ties to the alleged Taganskaya leader in Spain, Alexander Romanov, are purely social. Torshin hasn't been charged or summoned in relation to the report…
Mobster or Central Banker? Spanish Cops Allege This Russian Both

Leave a Reply
You must be logged in to post a comment.