LendingClub Stumbles Anew, Delaying Meeting With Investors
By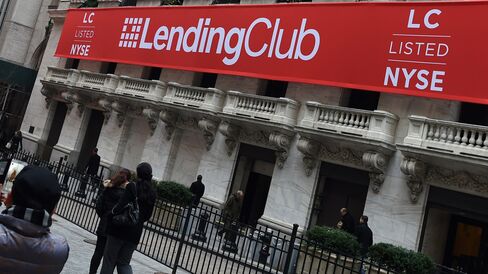 Photographer: Don Emmert/AFP via Getty Images
Stock falls further as Tuesday event is delayed until June 28

Second-biggest shareholder says it disposed of entire stake
LendingClub Corp., once the darling of a Silicon Valley movement looking to supplant banks, abruptly adjourned its annual shareholder meeting Tuesday, saying it wasn't ready to address investors after a leadership shakeup last month.
The company's announcement, just as the event was to start, pushed its stock down 7.4 percent by the close of trading in New York, bringing this year's slide to 60 percent. Fund manager Baillie Gifford & Co., once the venture's second-biggest shareholder with a stake of about 9 percent, separately disclosed Tuesday it had disposed of the stock by the end of May…
LendingClub Stumbles Anew, Delaying Meeting With Investors

Leave a Reply
You must be logged in to post a comment.