Lagarde Says IMF Can't Lend to Greece If June Payment Missed
By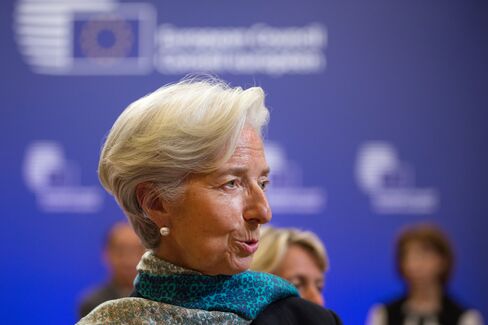 International Monetary Fund (IMF) managing director Christine Lagarde. Photographer: Jasper Juinen/Bloomberg
The International Monetary Fund will be prevented by IMF rules from providing additional financial assistance to the Greeks if they miss a June 30 payment, Managing Director Christine Lagarde said.
Lagarde, in an interview with the BBC, also said a referendum scheduled in Greece for July 5 may be asking voters to weigh proposals that are no longer under consideration.
"I can't speak for the IMF program, because the IMF program is on, but the European financial arrangement expires June 30," she said. "So, at least legally speaking, the referendum will relate to proposals and arrangements that are no longer valid."…
Lagarde Says IMF Can't Lend to Greece If June Payment Missed

Leave a Reply
You must be logged in to post a comment.