Japan Pension Fund's New Bookworm Boss Is Unbowed by Topix Slump
By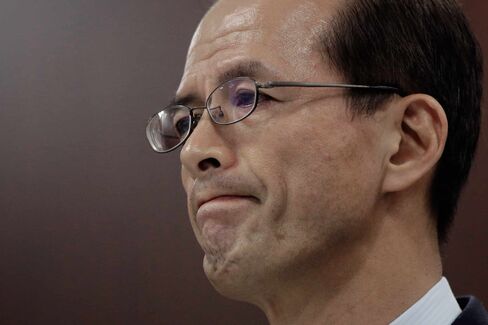 Photographer: Kiyoshi Ota/Bloomberg
Takahashi joins GPIF after 35 years at an agricultural lender

Takes over as slumping equities seen spurring quarterly loss
The new head of the world's biggest pension fund says you're more likely to find him in a Tokyo bookstore than at his desk agonizing over short-term market declines.
Norihiro Takahashi joined Japan's $1.3 trillion Government Pension Investment Fund as president on Friday after almost 35 years working at agricultural lender Norinchukin Bank. GPIF had previously hired lifers from the Bank of Japan for the top job; the 58-year-old is the first person to start the role with experience in asset management. With the slump in Japanese equities and a stronger yen likely to have caused a loss last quarter, he may face a fresh round of criticism that the retirement fund's investments are too risky…
Japan Pension Fund's New Bookworm Boss Is Unbowed by Topix Slump

Leave a Reply
You must be logged in to post a comment.