Investors Burned by China Rout Buy Wealth Products as Bonds Gain
By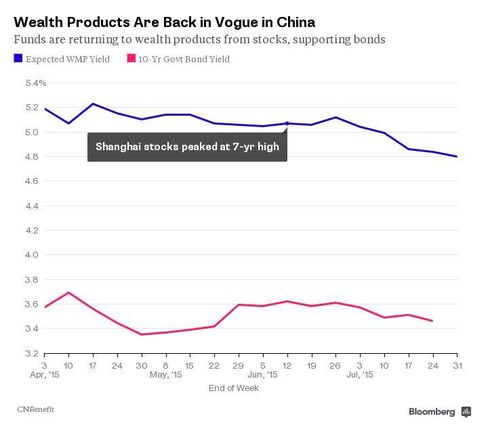 Chart of Average expected yields on WMPs and 10-yr govt bond yields
Alarmed by a rout that wiped $4 trillion of value from Chinese stocks, investors are driving demand for bonds by returning to wealth-management products.
The average expected yield of WMPs fell to 4.8 percent last week, compared with 5.1 percent three months ago, according to data from Chengdu-based consultancy CNBenefit. This shows more investors are diverting funds from equities to fixed-income wealth products, says Ping An Securities Co., a unit of China's second-largest insurer.
The inflows have helped pushed the 10-year sovereign yield down 12 basis points in July, the first drop in three months, to 3.48 percent. While a 10 percent decline in the Shanghai Composite Index sparked memories of the 35 percent plunge from June 12 that shook investor confidence, an ascendant bond market will help achieve the Chinese leadership's goal of pushing down borrowing costs to support an economy expanding at the slowest pace in six years…
Investors Burned by China Rout Buy Wealth Products as Bonds Gain

Leave a Reply
You must be logged in to post a comment.