India's Modi Calls Internet Key to Dream of $20 Trillion Economy
By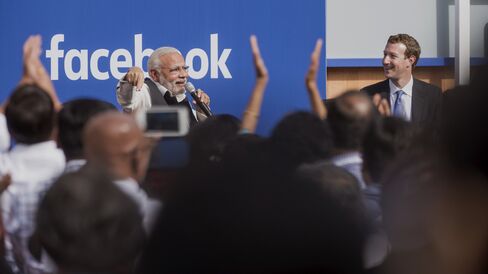 Photographer: David Paul Morris/Bloomberg
Leader tours Silicon Valley, says investment from U.S. rises

Modi has large gap to close with economy valued at $2 trillion
Prime Minister Narendra Modi plans on connecting 600,000 villages across India using fiber optic cable as part of his "dream" to expand the world's largest democracy's economy to $20 trillion.
Speaking at Facebook Inc. headquarters with Chief Executive Officer Mark Zuckerberg on Sunday, Modi described his plans to link local governments with faster Internet over the next five years to establish a reliable digital infrastructure. Modi, who came into power 15 months ago, has a large gap to close with India's economy valued at $2 trillion in 2014…
India's Modi Calls Internet Key to Dream of $20 Trillion Economy

Leave a Reply
You must be logged in to post a comment.