In High-Yield Energy Debt, Contrarian Sees Value Where Everyone Else Sees Defaults
By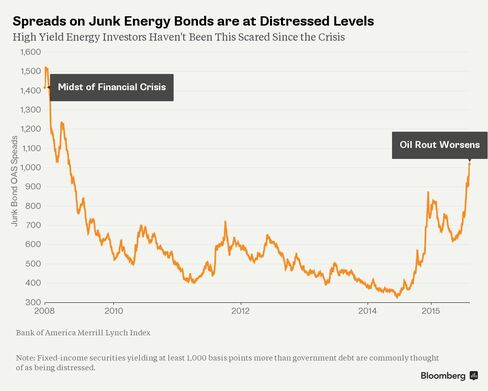 Spreads on Junk Energy Bonds are at Distressed Levels
Most junk-bond investors can't sell their energy-related holdings fast enough. Then there's Matt Eagan.
The money manager at Loomis Sayles & Co. is going the other way, buying debt in an industry where an alarming number of borrowers increasingly can't meet their obligations. He's lured to yields that have surged to the highest since 2009 on the speculative-grade securities of oil and gas companies — in some cases to over 30 percent…
In High-Yield Energy Debt, Contrarian Sees Value Where Everyone Else Sees Defaults

Leave a Reply
You must be logged in to post a comment.