Hogan Says Gawker's Denton Is Lowballing Condo in Bankruptcy
By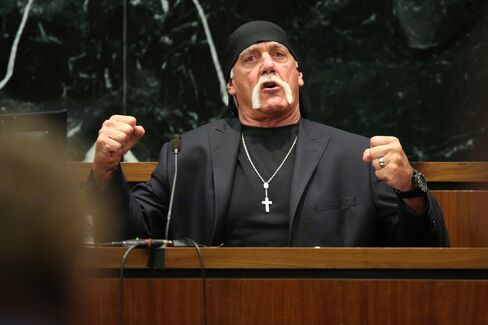 Source: Pool via Getty Images
Pro wrestler claims lease plan won't cover monthly costs

Manhattan property worth $4.25 million in December appraisal
Hulk Hogan helped bring down Gawker Media. Now he's throwing a wrench into the personal bankruptcy proceedings of company founder Nick Denton.
Denton's plan to rent his $4.25 million condominium at 76 Crosby Street in lower Manhattan for $12,500 per month shouldn't be allowed to go forward, because it won't come close to covering the property's monthly costs, and will make it more difficult to sell, Hogan's lawyers said in court papers filed Wednesday. The property is Denton's "only salable investment asset," and depending on what happens in Denton's personal Chapter 11 case, could "prove to be nearly his entire estate," lawyers for Hogan wrote…
Hogan Says Gawker's Denton Is Lowballing Condo in Bankruptcy

Leave a Reply
You must be logged in to post a comment.