End of 'Too-Big-to-Fail' Banking Era Endorsed by World Leaders
By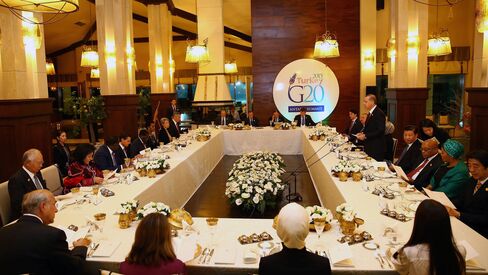 Photographer: /Getty Images
G-20 to back ruleset replacing `bail-outs' with `bail-ins'

FSB and Basel plan to complete post-crisis reforms next year
World leaders are set to endorse plans by regulators to end the era of too-big-to-fail banks, forcing them to raise as much as $1.2 trillion, and backed proposals to wrap up sweeping reforms of rules for the global banking system.
The Financial Stability Board, created by the Group of 20 nations after the 2008 credit crunch, last week put forward a plan on how the world's biggest banks can collapse without taxpayer bailouts. The proposals, which force bond investors to take losses if banks fail, are due to come into effect in two steps starting in 2019. G-20 leaders signed off on them, according to a draft communique from the summit in Antalya, Turkey…
End of 'Too-Big-to-Fail' Banking Era Endorsed by World Leaders

Leave a Reply
You must be logged in to post a comment.