Economists Are Split Over Whether the Fed Will Raise Rates in September
By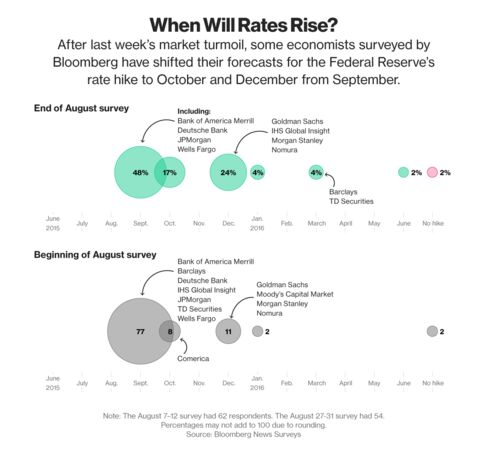 A comparison of economists' expectations for the first Fed rate hike since 2006, using late August and early August surveys.
U.S. central bankers face their toughest policy call in years next month — raise interest rates or wait a little longer. Whatever the decision, about half of economists will be wrong.
Forty-eight percent of 54 economists surveyed Aug. 27-31 by Bloomberg News see a September increase in the benchmark lending rate, the firstMOVE
up since 2006. That's down from 77 percent in an Aug. 7-12 survey, though it is still double the 24 percent who say the first move
will occur in December. Seventeen percent said October…
Economists Are Split Over Whether the Fed Will Raise Rates in September

Leave a Reply
You must be logged in to post a comment.