Deutsche Bank Investors Press Lender to Sharpen Focus
By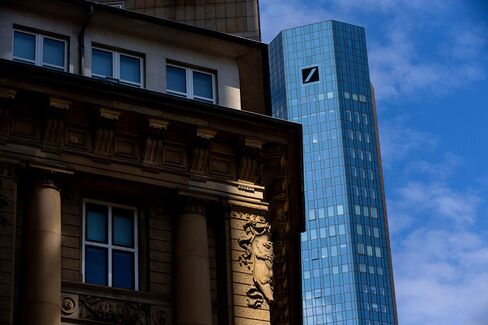 Photographer: Krisztian Bocsi/Bloomberg
Bank should consider shrinking securities unit, investor says

Deutsche Bank should cut workforce up to 20%, investor says
Deutsche Bank AG should shrink its securities business and eliminate more jobs to help lower costs further, according to some of the German lender's largest investors.
The lender should reduce its global workforce by up to 20 percent, or double announced cuts, according to one of the top 20 investors, who asked not to be identified in line with company policy that bars managers from speaking about individual stocks. Deutsche Bank could also trim equities trading while focusing on its larger fixed-income business, the person said. A spokesman for Deutsche Bank declined to comment…
Deutsche Bank Investors Press Lender to Sharpen Focus

Leave a Reply
You must be logged in to post a comment.