China's Runaway Housing Market Poses Latest Challenge for Yuan
By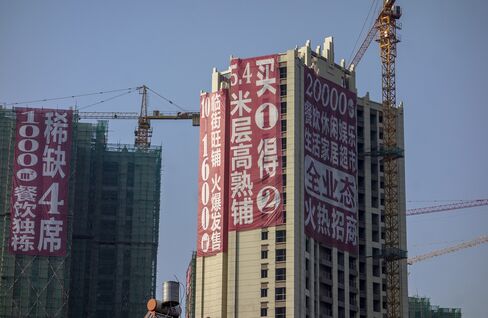 Photographer: Zhang Peng/LightRocket via Getty Images
Here's the latest uncertainty facing China's currency: sky high house prices.
A runaway boom in the largest cities will push investors to look for cheaper alternatives overseas, draining money out of China and putting downward pressure on the yuan in the process, according to analysis by Harrison Hu, Chief Greater China Economist at Royal Bank of Scotland Group Plc. in Singapore.
An "enlarged differential between domestic and foreign asset prices will lead to capital outflows and depreciation, until parity is restored," Hu wrote in a note. He said that the 30 percent year-on-year price gain in Tier 1 and leading Tier 2 cities implies a 25 percent rise in dollar terms, which far outpaces the 5 percent gain in major U.S. cities. That ratio is here in red:
China's Runaway Housing Market Poses Latest Challenge for Yuan

Leave a Reply
You must be logged in to post a comment.