China Property Rebound Spurs Onshore Investor Demand for Bonds
By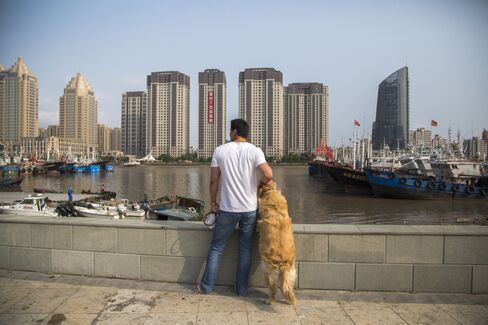 A man and his dog look at the new residential buildings in China's Zhejiang province. Photographer: Zhang Peng/LightRocket/Getty Images
A rebound in China's property market has spurred onshore investor demand for bonds issued by developers, helping cut their borrowing costs.
Longfor Properties Co. will sell five-year AAA rated notes to yield 3.93 percent Monday, compared with the average 4.09 percent rate on securities with similar maturities and credit scores in the secondary market. Beijing Tian Heng Development Group, issued AA, rated five-year debt at 4.12 percent July 22, less than the 5.22 percent on comparable debentures…
China Property Rebound Spurs Onshore Investor Demand for Bonds

Leave a Reply
You must be logged in to post a comment.