China Freezes Trading in 1,300 Companies, Locking Up 40% of Market Cap
By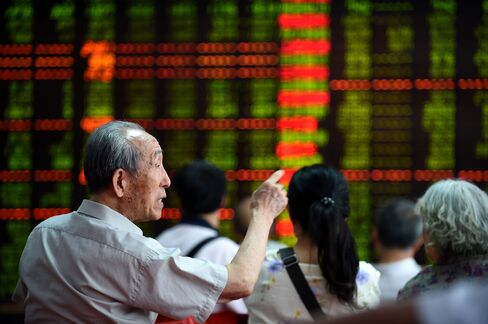 SHENYANG, July 7, 2015– Investors look through stock information at a trading hall in a securities firm in Shenyang, northeast China's Liaoning Province, July 7, 2015. Chinese shares lost to negative territory on Tuesday, with the benchmark Shanghai Composite Index down 1.29 percent to finish at 3,727.13 points. The Shenzhen Component Index slumped 5.8 percent to close at 11,375.6 points. (Xinhua/Pan Yulong)
A wave of Chinese companies halted trading in their shares and regulators unveiled new measures to prop up the value of small-cap stocks in the latest attempts to stem a rout that's wiped more than $3.5 trillion of value.
At least 1,323 companies have halted trading on mainland Chinese exchanges, locking up $2.6 trillion of shares, or about 40 percent of the market's capitalization. China Securities Finance Corp. is seeking at least 500 billion yuan ($80.5 billion) to support equities, people familiar with the matter said Wednesday, after the central bank said it would provide "ample liquidity" to the market. Margin requirements were raised on small-cap index futures, while state-owned companies were ordered not to sell shares…
China Freezes Trading in 1,300 Companies, Locking Up 40% of Market Cap

Leave a Reply
You must be logged in to post a comment.