Buffett Applies to Fed to Build Wells Fargo Stake Beyond 10%
By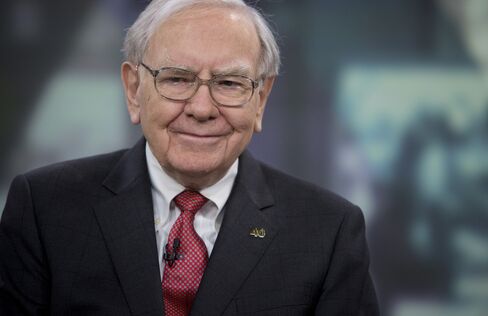 Photographer: Scott Eells/Bloomberg
Berkshire says no plan to change bank's corporate structure

Filing: Buffett's company hasn't bought shares since Oct. 21
Warren Buffett's Berkshire Hathaway Inc. applied to the Federal Reserve for approval to expand its stake in Wells Fargo & Co. after reaching the 10 percent threshold that requires regulatory review.
"Berkshire is seeking permission to retain its current ownership position in Wells Fargo and to acquire additional shares of common stock of Wells Fargo for investment purposes," Buffett's Omaha, Nebraska-based company said in an application to the Fed. "Berkshire does not have any specific transaction or dollar value in mind with respect to any such potential purchases."
U.S. regulations have long limited ties between non-financial companies and banks. Investors typically have to tell the Fed and the public before acquiring 10 percent ownership in a bank, though that notice can be delayed if the threshold is reached because of share repurchases…
Buffett Applies to Fed to Build Wells Fargo Stake Beyond 10%

Leave a Reply
You must be logged in to post a comment.