Bond Market's $2.46 Trillion Dilemma May Not Be So Serious
By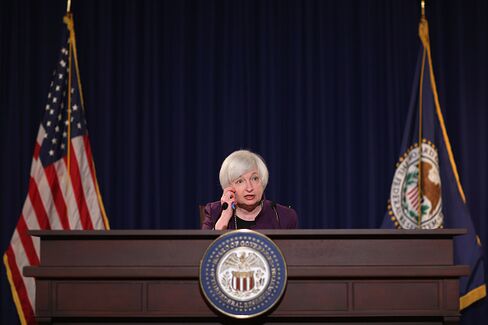 WASHINGTON, DC – JUNE 17: Federal Reserve Bank Chair Janet Yellen holds a news conference following a meeting of the the Federal Open Market Committee at the Fed June 17, 2015 in Washington, DC. The FOMC, the policy-making arm of the Federal Reserve, decided to hold interest rates at zero and gave no information about when it might raise rates for the first time in nine years. (Photo by Chip Somodevilla/Getty Images)
For bond investors worried about what might happen when the Federal Reserve starts whittling down its $2.46 trillion of Treasuries, there's good news.
You'll barely even notice.
The central bank plans to reduce its debt holdings sometime after it starts raising interest rates, and the concern is that the Fed's attempt to reverse its unprecedented easy-money policies will trigger a jump in borrowing costs…
Bond Market's $2.46 Trillion Dilemma May Not Be So Serious

Leave a Reply
You must be logged in to post a comment.