Banks Lure $30 Billion Deposits as Indians Struggle to Find Cash
By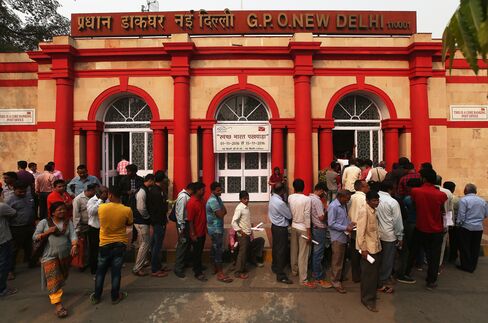 Photographer: Anindito Mukherjee/Bloomberg
Modi on Nov. 8 made surprise move to phase out some banknotes

Will take more steps to fight against tax evasion: Modi
Indian government's surprise move to ban high-denomination banknotes on Nov. 8 has seen lenders lure 2 trillion rupees ($29.8 billion), as customers across the nation queue for hours to deposit the old bills.
The decision has also put tremendous pressure on the banking system to replenish the funds, as the banned bills accounted for 86 percent of money in circulation. More than 70 million transactions were recorded up to mid-day of Nov. 12, the Ministry of Finance said in a statement late Saturday. There's adequate money in the currency chests at more than 4,000 locations and re-configuration of dispensing machines to disburse new notes will be completed within two weeks, Finance Minister Arun Jaitley said…
Banks Lure $30 Billion Deposits as Indians Struggle to Find Cash

Leave a Reply
You must be logged in to post a comment.