Australia Plans A$1 Billion Fund to Protect Great Barrier Reef
By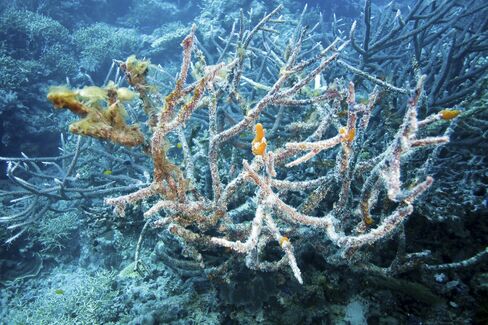 Photographer: Auscape/UIG via Getty Images
Largest living structure on earth threatened by global warming

'It's unique, it's gigantic, it's an enormous economic driver'
Australia's government plans a A$1 billion ($736 million) fund to protect the Great Barrier Reef from the effects of climate change and declining water quality.
Warming waters are bleaching the reef's coral, while run-off from the land such as farm fertilizer is harming water quality, Prime Minister Malcolm Turnbull said at a news conference in Queensland Monday, less than three weeks out from a general election. The reef, a UNESCO world heritage site, is "unique, it's gigantic, it's an enormous economic driver here in north Queensland and it's one that we are committed to protect for our children, grandchildren and many generations to come," he said…
Australia Plans A$1 Billion Fund to Protect Great Barrier Reef

Leave a Reply
You must be logged in to post a comment.