As China's State Funds Buy Stocks, Individual Investors Cash Out
By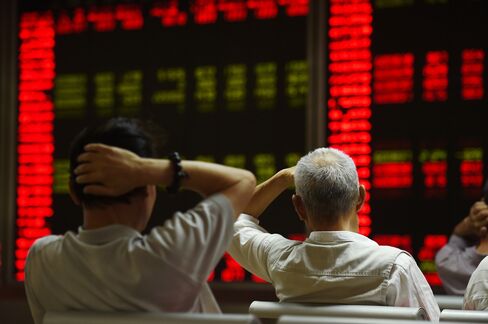 Investors react at a securities company in Beijing on July 14, 2015. Photographer: Greg Baker/AFP/Getty Images
China's efforts to rekindle investor enthusiasm for the stock market are gaining little traction as margin traders cash out and new equity-account openings tumble.
Speculators reduced bets using borrowed money to the lowest level in four months on Tuesday, while the number of new stock investors shrank last week to the smallest since the government started releasing figures in May.
Waning interest in equities among China's 90 million investors underscores the challenge of supporting a market where individuals account for more than 80 percent of trading. The Shanghai Composite Index nearly erased gains from its July 8 low on Tuesday, despite government support measures that include arming a state-run financing agency with more than $480 billion to bolster the market…
As China's State Funds Buy Stocks, Individual Investors Cash Out

Leave a Reply
You must be logged in to post a comment.