Activist Elliott's Korean Campaign Wakes Up Investors
By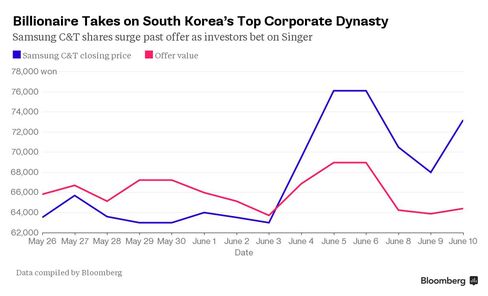 Samsung C&T shares soared on the news of activist shareholder Paul Elliott Singer's involvement and are now trading above the value of Cheil's offer.
Activist shareholder Paul Elliott Singer is picking a fight with South Korea's most powerful corporate dynasty. Investors are betting he will prevail.
Singer's Elliott Associates LP emerged last week as the third-largest shareholder in Samsung C&T Corp., the target of a $9 billion takeover offer from the Lee family's Cheil Industries Inc. Elliott is lobbying to block the deal, which the billionaire says "significantly undervalues" the construction company and is unfair to shareholders…
Activist Elliott's Korean Campaign Wakes Up Investors

Leave a Reply
You must be logged in to post a comment.