Pearson to Sell Economist Stake for $731 Million to Exit News
By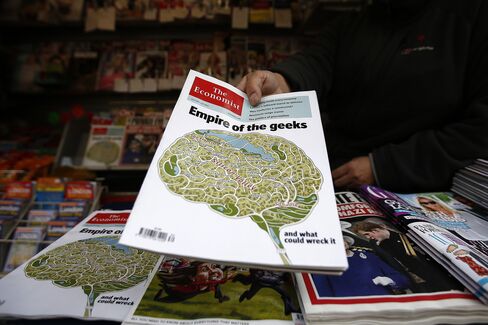 Photographer: Simon Dawson
Bloomberg
Pearson Plc agreed to sell its stake in the 172-year-old Economist magazine in a 469 million-pound ($731 million) deal with Exor SpA, completing an exit from business publishing after disposing of the Financial Times newspaper last month.
Exor, the Agnelli family's investment company that controls carmaker Fiat Chrysler, agreed to pay 227.5 million pounds for 27.8 percent of The Economist Group's ordinary shares and all of the B special shares for 59.5 million pounds. Pearson's remaining ordinary shares will be bought by The Economist Group for 182 million pounds, Pearson said Wednesday in a statement…
Pearson to Sell Economist Stake for $731 Million to Exit News

Leave a Reply
You must be logged in to post a comment.